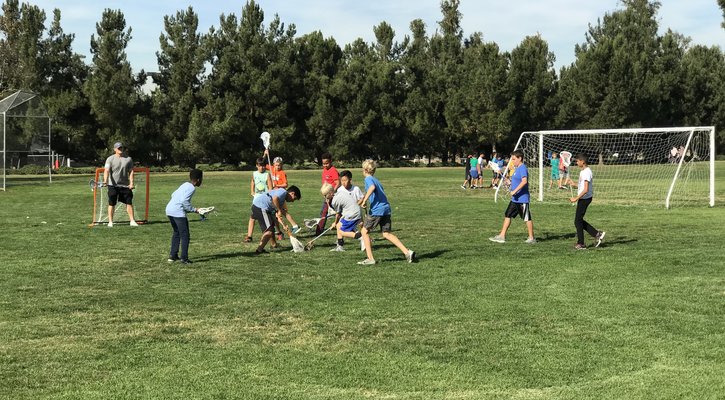 Upper graders have an exciting new opportunity to learn about the fundamentals of lacrosse and then play a game during their lunch time! Click here to see our students in action. 
Who are we? 
Coach Brent and Coach Page are directors of Victory Lacrosse – North, a youth non-profit lacrosse organization dedicated to offering the highest level of training while teaching character through sport. Victory Lacrosse – North is based in Irvine, CA and serves the surrounding communities in Orange County.  Coach Page is a Woodbury alum who has grown up in Irvine his whole life and desires to see the sport of lacrosse grow in the city he loves. He is currently the Head Lacrosse coach at Portola High School and previously played collegiately at Concordia University - Irvine.  Coach Brent is the Program Director at Victory Lacrosse and is also the head coach at Crean Lutheran High School.  He was the head men's and women's lacrosse coach at Concordia University from 2013-2017, earning National Coach of the Year honors in 2015 & 2017. 
What will we be doing?
Lacrosse is the oldest sport in North America and was originally played by Native Americans.  Over the last decade, lacrosse has expanded rapidly and has been the fastest growing sport in America.  The growth in Orange County has been tremendous as well and now all high school teams in Irvine have Varsity Lacrosse programs.  Our goal is to introduce the sport of lacrosse in a fun way in order to grow the game and develop the next generation of players.  We will be teaching the basic fundamental skills of the sport such as shooting, ground balls, throwing and catching and will finish each session with fun small sided competitions. For those who are interested in learning more, Victory Lacrosse will be holding FREE clinics every Sunday in November from 2-3pm at Crean Lutheran High and also offer recreation teams in the Winter.  More information about registration can be found by emailing Coach Brent at rbrent@vlax.org or by going to www.thevictoryway.org.