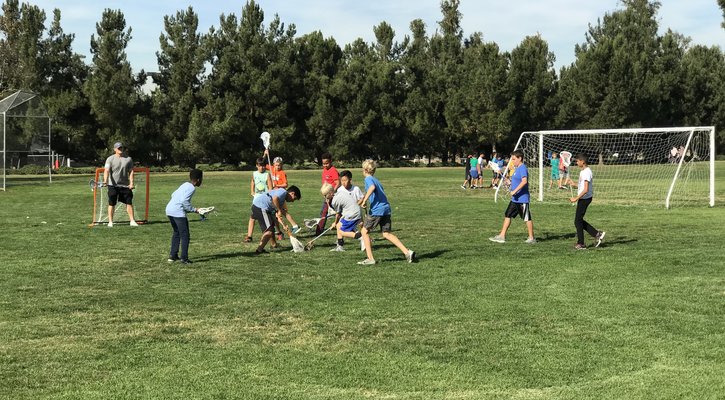 Grades 3rd through 6th have an exciting new opportunity to learn about the fundamentals of lacrosse during their lunch time!
Who are we? 
Irvine Rangers Lacrosse Club seeks to reinforce positive character development of scholar athletes. We use lacrosse as the medium to empower Boys & Girls to achieve their individual and team goals. We want to provide Irvine children with the opportunity to enhance their leadership skills in a fun environment. 
Lacrosse is America's oldest sport. It's origins are intertwined with indigenous culture. Many of the lessons that we teach on the lacrosse field are transferable to life.
Coach Nes Geffrard currently is the Program Director for Irvine Rangers Lacrosse Club. In addition, he is the varsity boys lacrosse coach at Woodbridge High School. He was also recently named as a captain for Haiti's Men's Lacrosse team. 
Coach Nes has over ten years of playing experience. He first fell in love with the game when he started playing in 9th grade. He played college lacrosse at Nassau Community College and The University at Albany.  
For more information, you may contact Coach Nes through his email address nesgeffrard@gmail.com, his webite irvinerangerlacrosse.com and/or instagram @irvinerangerslacrosse .
What will we be doing?
We will use our time at Woodbury Elementary School to teach the basic fundamentals of lacrosse: catching, throwing, scooping the ball. We will end every sessions with a no contact competitive game. These introductory training sessions are open to BOYS & GIRLS. Regardless of experience!
For the first time in history, ALL Irvine Unified School District High Schools will feature sanctioned Varsity and Junior Varsity lacrosse teams.  Clearly, this a testament to Lacrosse's swift growth all over the United States, especially, Southern California. Last year, the NCAA added 25 new Men's and Women's Programs, and more colleges and universities are planning to add lacrosse to their programs as well.